William Timpson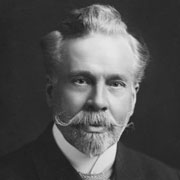 William Timpson, the former owner of Sunnylands, was born in Rothwell in 1849. By the age of eight, he was already earning money by making and selling leather boot laces. He also carried boots for outside workers from Rothwell to Messrs Gotch's boot factory in Kettering for repairs.
At the age of 11, William was sent to Manchester to work with his elder brother delivering boots around Manchester. After an argument with his brother, William returned to Rothwell to learn shoemaking. William then started to work for a shoe repairer in Rothwell and took over his business when he died.
At the age of 16, William returned to Manchester to join his brother in law, Walter Joyce, and started a retail boot and shoe business in 1865. In 1870, William started his own business by opening a shop at 97 Oldham Street, Manchester. With the success of this first shop, William was soon able to open more shops around Manchester.
Due to ill health, William decided to move back to Kettering and he built Sunnylands in Headlands, an up and coming area for local businessmen. William still managed to keep an eye on his business by travelling to Manchester by train. He was a well-known traveller from Kettering to Manchester as he did this journey for nearly 40 years and held a 1st Class season ticket the whole time.
The business went from strength to strength. With the business growing, a new warehouse in Manchester was opened in 1895. It was said that this warehouse could hold 40,000 pairs of shoes, a massive amount for the time.
William was active in the business until 1903 when his health wouldn't let him travel as much and the hard slog of finding new sites for stores became more demanding. After William died in 1929, his funeral was held in Kettering, the town fell silent as the people of Kettering lined the streets as his funeral procession passed through the town.
William's wife continued to live in Sunnylands until her death. In 1946 the building was converted, with the support of local businessmen, to become St Peter's School, or Kettering Preparatory School as it was then.
The Timpson Group is proudly still owned by the same family that founded it more than 150 years ago. Every colleague is part of the family and the values that are core to the group are also lived out in the charitable work that they support. Timpson is now a British multinational retailer specialising in shoe repairs, key cutting, locksmith services and engraving. The company remains based in Manchester, and currently has over 2,155 shops. It recently named its new building, part of the Manchester Head Office, 'Sunnylands' in recognition of his grand-father's former home.