Upper School Literacy Festival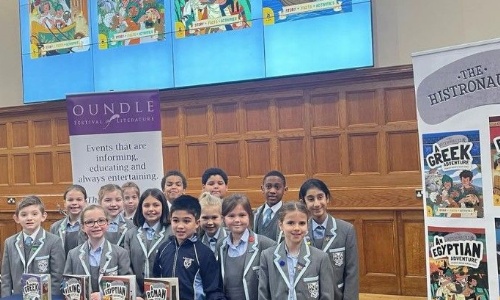 The PTA organised a fantastic visit for Years 3, 4, 5 and 6 to the Oundle Kids Literacy Festival this week. Our year 5 & 6 children got to meet and listen to award-winning children's author Hannah Gold. Whilst year 3 got to explore The Histronauts series - year 4 are taking part on Friday!
The Festival featured a fantastic programme of truly entertaining and informative authors of very popular books for children of all ages. There was dramatic storytelling, top eco-tips, hilarious poetry, fun and exciting animal quizzes, Greek History and designing of book covers. Authors this year included Hannah Gold, Frances Durkin, Joshua Seigal, Sarah McIntyre, Iona Rangeley and for the writing competition event, Sam Copeland.